BEFORE YOU BEGIN
You cannot import new or edited training samples from CSV unless the file uses column headings correctly. See Export training samples to CSV for editing.
Step 1. Work locally with the CSV file that you saved after editing.
a. Make sure that the CSV file has a .CSV filename extension.
b. Make sure that the CSV file contains valid training samples.
c. Compress the CSV file into a ZIP archive.
d. Make sure that the archive:
contains exactly one CSV file.
does not contain any other files.
does not contain any folders.
has a file size of less than 25MB.
Step 2. Log in to your Helpshift instance as its administrator.
The SensAI page opens. Depending on your feature entitlements and settings, the page shows two cards: Predict and Smart Intents.
Step 4. On the Smart Intents card, click MANAGE SMART INTENTS ➔.
The Smart Intents page opens.
Step 5.
Near the top of the page, next to the + NEW INTENT GROUP button, click the unlabeled "more" button (
). Then, from the shortcut menu, choose
Import training samples from CSV
.
The Import Smart Intents training messages from CSV dialog box opens. It includes a small upload form for the ZIP archive that contains your CSV file.
Step 6. To start browsing your local system and its mounted volumes, click SELECT FILE.
Step 7. In your computer's file browser, locate and click the correct CSV file. Then, to confirm your choice, press Enter.
Your file browser closes.
Step 8. In the Import Smart Intents training messages from CSV dialog box, click UPLOAD.
The dialog box is refreshed, showing how many training samples Helpshift counts as newly added, per intent.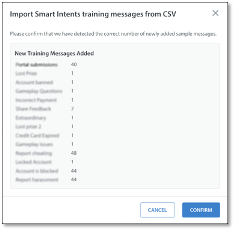 Alternatively, when errors are detected, Helpshift tells you about them.
TIP
Helpshift ignores any deletions that you may have made to the CSV file before reuploading it.
We do not support any deletion of training samples via CSV upload.
Step 9. Do one of the following.
To agree with our count of your newly added training samples and complete the upload, click CONFIRM.
It may take as long as 20 minutes before you observe any improvements to intent-matching.