Workflow Management is a set of Helpshift features which you can use to optimize your support workflow. We built these features to address the following problems many support teams encounter:
Admins and Supervisors spend a lot of time manually assigning Issues to Agents
Difficult to automatically distribute new Issues to a larger support organization made up of multiple teams who may have different shifts
Volume and frequency of Issues can change unpredictably; Agents and teams get overwhelmed by too many new Issues assigned to them at once
Difficult for Admins to identify which Agents are actually available for new Issues, e.g. online and in the Dashboard and not taking a break or working on something else know
By using these features, you can do the following:
Automatically distribute and route Issues based on subject or type of user
Load balance and distribute work evenly across multiple time zones and working shifts
Improve working efficiency by only assigning Issues to Agents who are logged in and have a stable network connection
Prioritize backlog of Issues and customer wait time so you can provide a scalable support experience to customers
Add fallback assignment and auto-replies in the event that the volume of new Issues exceeds current working capacity
The assignment rules in the Helpshift Dashboard are based off of Round Robin. This means that new Issues are assigned evenly to all Agents on a rotating basis based on the Issue Creation timestamp.
In many support teams, Agents are specialized to handle specific types of inquiries; either by topic (e.g. Refunds, Shipping, Technical Bugs, Feedback) or customer tier (VIP, free user). In these cases, you can use Automations to auto-assign Issues with specific tags to specialized Agents, auto-escalate Issues with strings like "I'd like a refund" to a Supervisor, and auto-reply to and resolve low-priority Issues and feedback.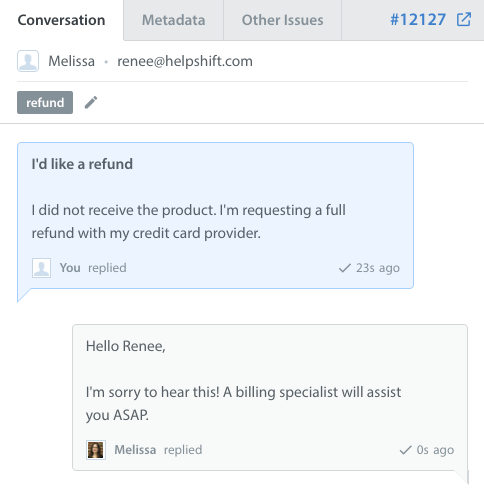 For more detailed steps and best practices, please see our Knowledge Base.
1. Setup to Integrate Workflow Management Tools
2. Creating New Issue Automations (NIAs)
3. Setting the Max Issue Limit
4. Managing Issues beyond the Max Issue Limit
---
Setup to Integrate Workflow Management Tools
The first feature you'll want to set up to manage your workflow is Automations. Automations can only be managed by Admins. If you are an Agent, please refer the Admin(s) of your team to to review What Are Automations, And How Should I Use Them?
You'll also need to know how to create tags. If you haven't created tags yet, please see How Do I Create And Use Tags?
---
Creating New Issue Automations (NIAs)
Once you've set up tags and learned about Automations, proceed as follows:
1. Create a New Issue Automation (NIA) by navigating to Settings > Workflows > Automations and clicking the '+ New Automation' button. When creating the NIA, click 'Add Filter' and add the fields you'd like to filter by. You can filter by app, platform, language, forwarding email, tags, title or first message, or issue arrival time.
To set up NIAs to only assign Issues during Agent working hours, you'll want to filter by issue arrival time and set the working hours for that Agent.
For example, if you create an Automation for 'Refund Issues' and your refund processing team only works Mon-Fri 9am-5pm, you would apply the filter 'tags' has one of 'refund' and Issue arrival is within Mon-Fri 9am-5pm.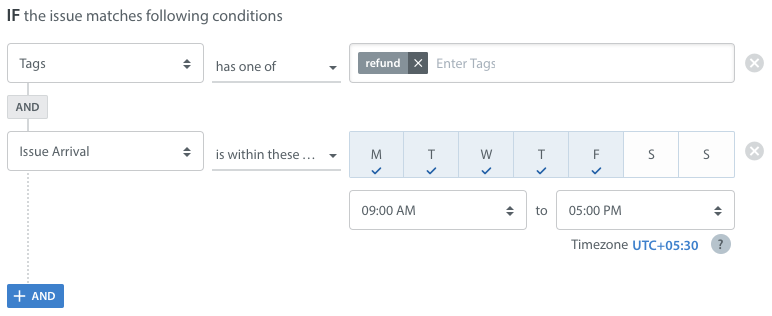 2. In the 2nd half of setting up the NIA, click 'Add Action' select 'Assign to' then select the Agent or Queue you'd like this type of Issue assigned to.
In the Refunds example, you would assign the refund to a Refunds Queue.

Click 'Save' to launch the Automation.
---
Setting the Max Issue Limit
You will want to set a maximum number of Issues that your Agents can work on. The maximum number is defined as any Issue with the following status:
New Issue for Agent
Agent Replied
Waiting for Agent
To determine the max limit that you should set for your team, review the data available to you within the Analytics section of your Helpshift Dashboard. Here's an example of how you can look at a week's worth of data to identify the optimal max limit:
Navigate to the Analytics page, then go to your Issues Trend view. Identify the the Issues Created number for that week.
Navigate to your Team view, select Summary by Agents, then look at the following numbers:

Time to First Response: this should be less than 24 hours. If it's too high, you may need to assign less Issues.
Holding Time: this should be less than 1 hour. If it's too high, your Agents are receiving too many Issues at once.
Backlog: this is a great indicator of how many Issues an Agent can handle. If this number is too high, you may need to hire additional Agents or improve your training as Agents aren't able to resolve open Issues.
Average Time to Resolve: is this greater or less than 24 hours? If it's greater, you may need to assign less Issues.
You have the option to enable Maximum Number of Issues for every Agent on your team. If you enable it, the default value is 10 Issues per Agent. If you decide to not use this feature, there are no limits on the assignment for New Issues.
To set the maximum number of Issues for your whole team, navigate to Settings > Workflows > Auto-Assignment, then under 'Limit Issues per Member to', turn the toggle ON and enter a number for the max Issue limit.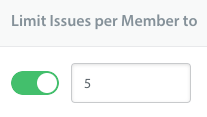 ---
Managing Issues beyond the Max Issue Limit
To prevent any problems in the event that all of your Agents and Queues reach their max Issue limit, you should proceed as follows:
If you have Queues enabled, all Issues exceeding the max limit will go into the Default Queue. No action is needed by you.
If you do not have Queues enabled, you will want to create a Shared Smart View which these Issues will be made available in. You can create a tag, such as 'backlog' or 'ooo' and apply it to Issues which come in after all of the max Issue limits have been exceeded. To learn more, please review How do I Create a Shared Smart View?
Auto-Assignment is designed to work with Queues. To learn more about the Auto-Assignment settings and how they allow you to manage availability, please see What is Agent Availability, and how can it optimize my team's workflow?
To set up additional features and learn more about Helpshift best practices, please review our Knowledge Base.