Custom Bots are an add-on feature that can be unlocked with an account upgrade. Please reach out to success@helpshift.com to learn more.
Custom Bots can be invoked at any point in a conversation to carry out a customizable series of up to 5 different actions. They can do all the same things as Agents, which frees up your support team to hand off Issues to Bots and go work on other things. You can also configure your workflow to have Automations assign Issues to Bots when certain conditions are met, allowing you to use Bots to conduct end-to-end Issue management.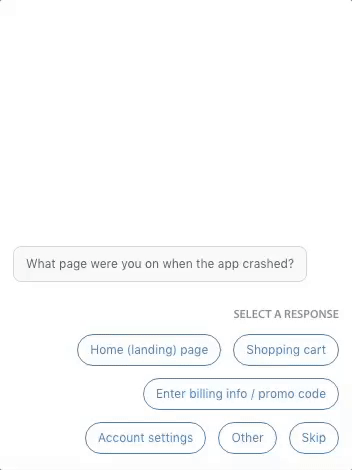 For your in-app users, you must upgrade to SDK v7.1.0+ and have Conversational Issue Filing enabled to use Custom Bots with the SDK. Please review the FAQ What is Conversational Issue Filing, and how do I set it up? to set this up if you haven't done so yet.
For Web Chat users, no SDK upgrade is needed – as long as you have the Web Chat widget integrated, you can start using Custom Bots to support your web users. Please review our Web Chat guide to set up this widget if needed/
To set up a new Custom Bot, navigate to the Settings page.

Click on the 'Bots' tab under 'Workflows'.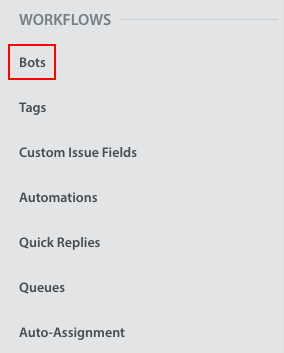 On the page that appears, navigate to the Custom Bots tab in the top navigation bar.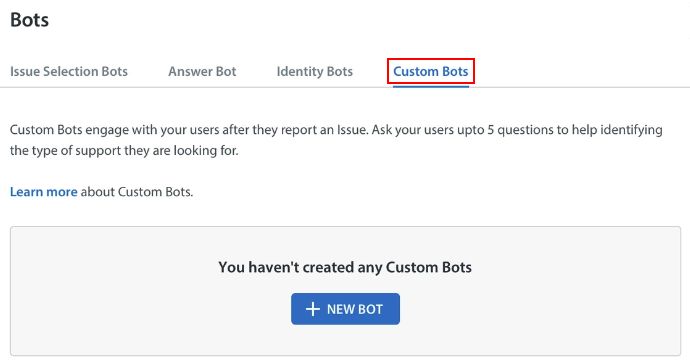 Click the '+ New Bot' button in the center of the screen to create a new bot.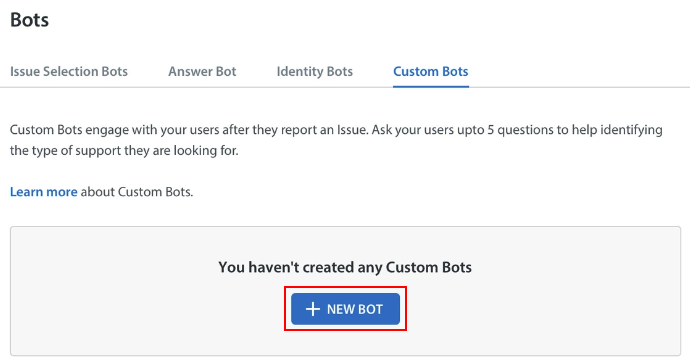 In the pop-up that appears, you'll be asked to provide a name and nickname for your Bot.
The name is how your team will identify your Bot, and must be unique – we recommend coming up with an intuitive name that will help your team understand what this Bot is for.
The nickname will be used if you allow the Bot's name to be displayed to end users, similar to how Agent nicknames work. Bot nicknames do not have to be unique, meaning you can give the same nickname to multiple different Bots.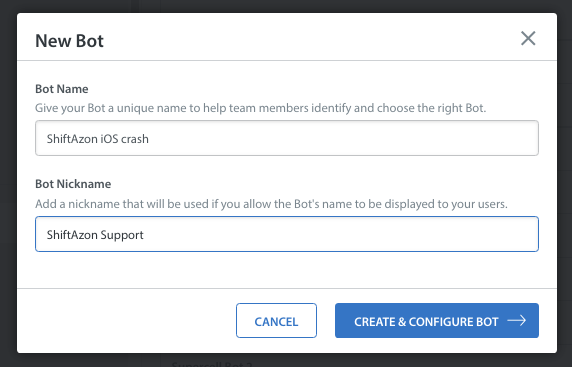 Click the 'Create & Configure Bot' button to set up your Bot steps.
Steps are the actions that the Bot should take within the conversation. You can set up multiple steps for each Bot, which will be linked to be carried out in a specific order. The steps available for you to configure differ based on the Bot being set up.
For Custom Bots, you can have the Bot send a message, gather information from the user (which can be mapped to Custom Issue Fields), or exit the conversation so the Issue can be assigned to a new Queue, Bot, or Agent (or moved back to the original Queue).
On the Bot page, click the 'add first step' button to start adding steps for this Bot.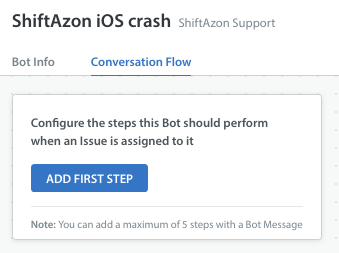 In the pop-up that appears, select the Step type. For the first step, you can choose to send a message or get information from the user. If you choose to get information, you will be able to add a message for the user to provide context on what information you need to gather.

Next, add a name for your step. This should be intuitive for your support team to understand when reviewing the Bot.

When getting information from the user, use the Bot Message field to provide context about the information you want to gather. For example, you can ask what page the user was on when the app crashed.

To map the user's reply to a drop-down Custom Issue Field, enable the corresponding toggle. If you need to set up a drop-down Custom Issue Field to work with this Bot, review How do I create a new Custom Issue Field?
The 'user reply options' will appear differently based on whether you have enabled or disabled the 'Map User's Reply to a Drop-down Custom Issue Field'. If you've enabled it, you'll be able to select a Custom Issue Field for the user's reply to be mapped to.
If you select a drop-down Custom Issue Field, you'll also be prompted to select up to 5 corresponding values associated with it to add as options for your user to select.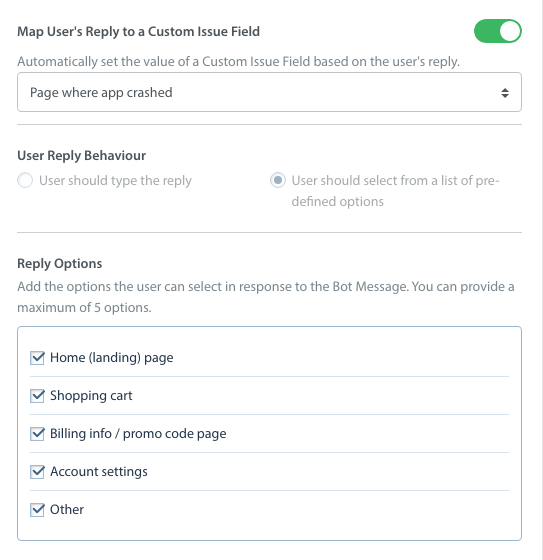 If this toggle is disabled, you'll be able to add up to 5 reply options for the user to select when responding to the Bot.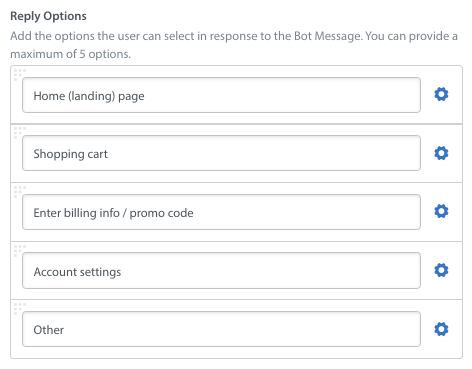 When you've added all the options needed for this step, click 'Save'. You'll be taken back to the conversation flow page where you can add additional steps.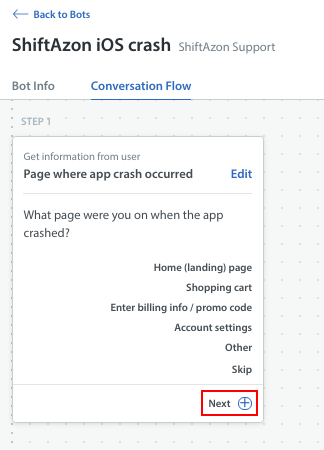 Click the 'Next +' button in the screenshot above to add the next step in the flow.
For our example, now that we've gathered the page the user was on, we may want to ask what they were doing on that page. Since this could be a variety of different things, when creating this step we will select the option to allow the user to type the reply.
On the page that appears after clicking 'Next +', select the step type 'Get information from user', and enter a new step name and Bot message.
In the Bot message field, it may be helpful to add examples of what type of reply you're looking for to guide the user to share as much helpful and specific information as possible.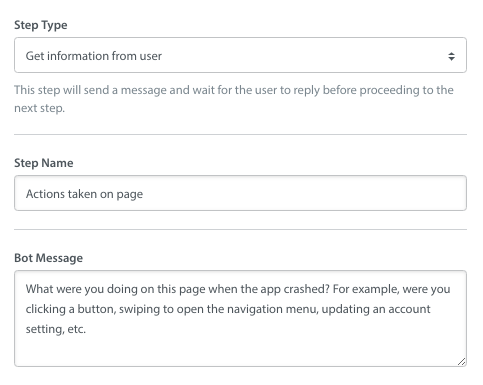 Select 'User should type the reply' and the text reply format. You have the option to request that replies be formatted as text, an email, a number, or a date.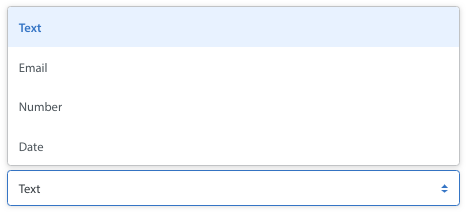 For all steps, you always have the option to allow this user to skip the step. Once you click 'Save', you'll see the new step added into the flow for this Custom Bot.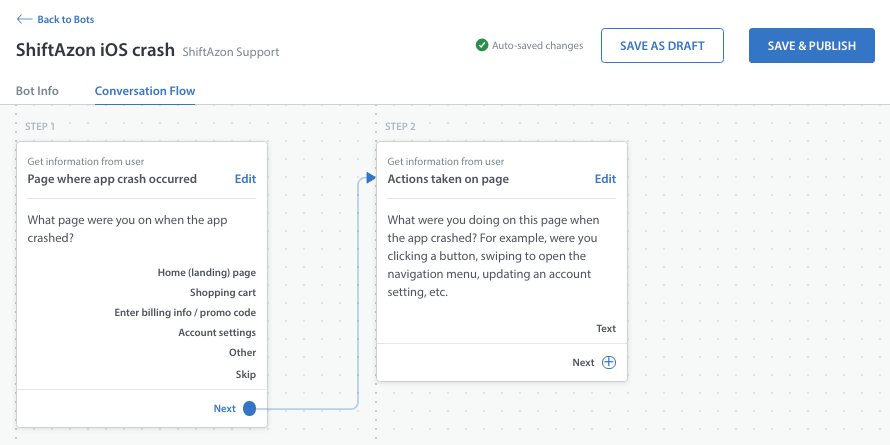 You can add up to 5 steps for any Custom Bot. When you want this flow to end and for the Issue to be assigned to an Agent, Queue, Group or another Bot, create one last step and select the 'End conversation flow' option.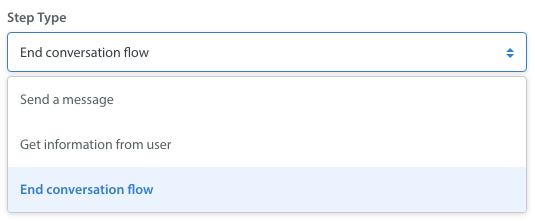 Add a friendly message to set expectations with your user about when they should expect to hear from your team, then select the Issue action that should be taken after the Bot completes this process.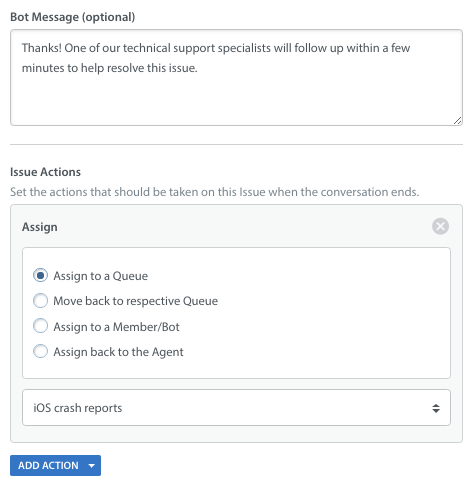 Please note: you can always use the 'Add Action' button to add additional actions, such as adding or updating Custom Issue Fields, marking as resolved, or adding a private note.

Here is what a completed Bot flow with all steps linked in order from the beginning to the end of the Bot interaction with the user looks like: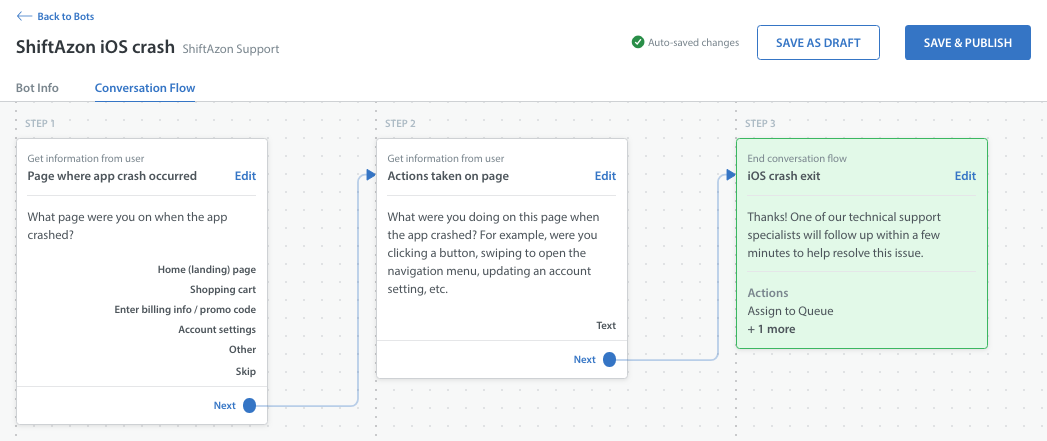 You can always preview what the Bot interaction will look like for an end user via the 'Preview Flow' button in the Bottom-right corner.

You can also save this draft at any time. When you're ready to launch this Bot, click the 'Save and Publish' button in the top right corner.

Please note: you will not be able to edit the Bot once you've published it.
Once you've created your new Custom Bot, you can use Automations to have the Bot automatically assigned to work on open Issues that meet select criteria. To complete this process, see How do I assign Issues to a specific Agent, Queue, or Bot?