Deleting an app in Helpshift has serious repercussions. This is why we display a prominent warning whenever this action is attempted.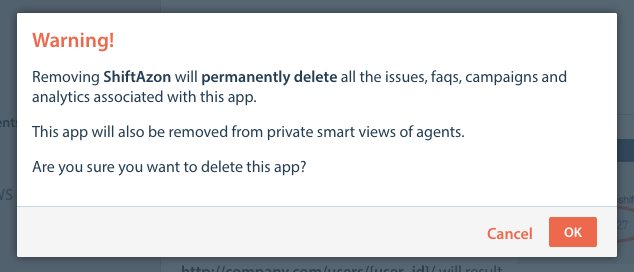 Once an app is deleted in Helpshift, all data connected to that app is permanently removed and cannot ever be recovered – this includes Issues, FAQs, Analytics metrics, Campaigns, and API keys. The app is also removed from private Smart Views.
Any end users who have reached out to you through this app previously will not be able to reach out to your support team again unless they are given new API keys and User IDs. Any open conversations will not be able to be closed or updated, and any new conversations started will not reach your Dashboard.
In the event that one of your apps was accidentally deleted, to restore in-app support for your end users, you must complete each of the following steps:
Create a new app in the Helpshift Dashboard.
Implement the API keys generated by the new app into your existing SDK configuration – these new API keys will be available under Settings > SDKs in your Dashboard.
You will need to force each of your users onto new profiles/logins using the loginWithIdentifier (iOS) or login (Android) API. This will force the API keys to refresh in your end users version of the app. If you only replace the API keys and skip this third step, these users will remain stuck even after reinstalling the app. This is because our SDK is designed to persist the user profile and config across installs, and it is linked through the User ID.
Program your app to force an app update onto your end users (rather than simply giving them the option to update) so that this new configuration for in-app support is restored.