SDK v7.7.0 for iOS and SDK v7.7.1 Android were released on February 11th, 2020. Below are the features and updates that were part of this release. 
We recommend you share this support article with your developers so that they are aware and prepared for this release.
---
Send rich media files using Custom Bots
You can send images and other rich media files to end-users using Custom Bots.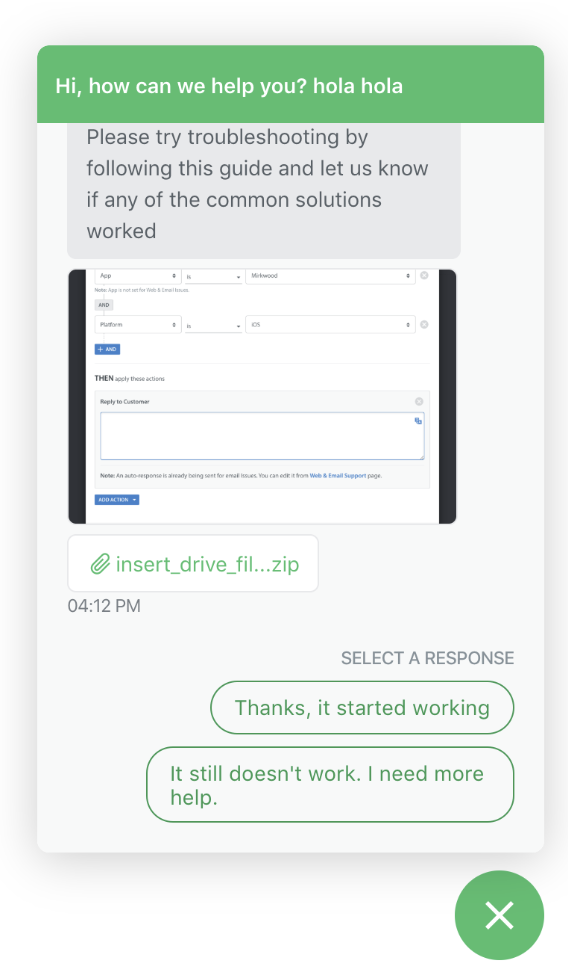 To learn about sending rich media files through Custom Bots, refer to How do I send attachments in Bots?
---
Smart Intents
We've released our latest development in intelligent issue classification called Smart Intents with SDK v.7.7.0. Using Smart Intents, you will be able to:
Get a deep understanding of top issue categories your support team receives based on historical issue data, allowing you to take a data-driven approach to create FAQs, bots, routing rules, and more.

Proactively suggest help topics to end-users when they open the chat window.

Provide an embedded search experience with AI-powered navigation within the chat interface.
Note that this is a limited release and is available in English only. You need a minimum of 100K chat-only issues to use this capability. If you are interested in trying this feature, contact success@helpshift.com.
---
Allow end-users to send rich media files to Agents
You can allow end-users to send images and other types of rich media files to agents within the chat interface. The maximum file size allowed will be 25MB, and Admins will be able to restrict the types of files that end users can send to agents under Support Settings.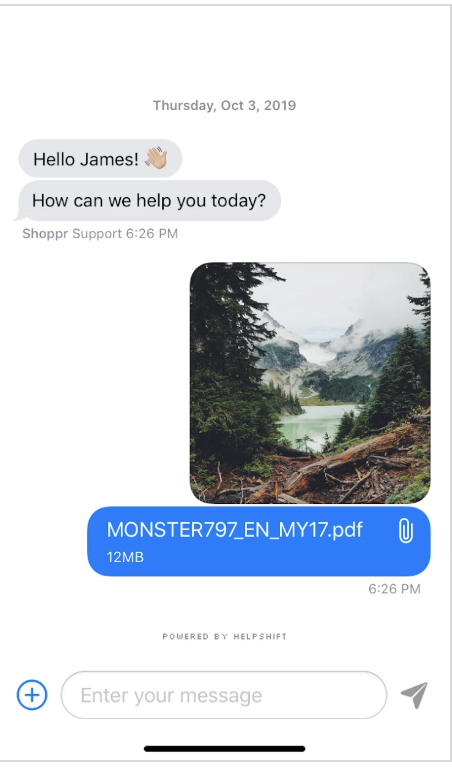 To learn more, refer to How do I restrict file types and attachments?
---
AI-Powered FAQs in Custom Bots
QuickSearch Bot capabilities are no longer limited to the first step of the messaging experience. Starting with SDK v7.7.0, you will be able to invoke AI-Powered FAQ responses from any step within a Custom Bot workflow.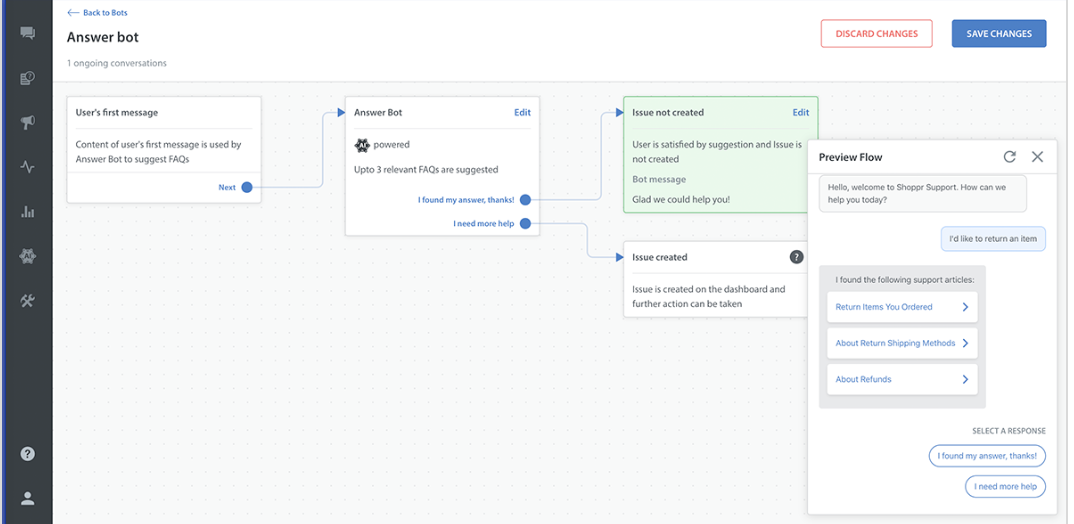 For detailed information about invoking FAQs within a custom bot step, refer to What are Custom Bots, and how do I set them up?
---
Swift Language Support
Swift is a state-of-the-art programming language recommended by Apple for building modern iOS apps. Starting with SDK v7.7.0, Swift 5 will be part of our SDK along with the existing Objective-C code.
A few important things to note when you upgrade to SDK v7.7.0:
When upgrading, you will need to migrate using Xcode 10.2 or higher to build your applications.

For apps that are currently not using Swift, there will be an increase in the final download size of approximately 2MB; it will be restricted to devices running iOS 12.1 or lower only.

If you are using Objective-C in your iOS app, then you will need to add a couple of steps when integrating SDK into the app.

The existing Objective-C API will remain unchanged and will not face any breaking changes when they upgrade to SDK v7.7.0.
For detailed information about the Support for Swift feature, see Swift Language Support in SDK 7.7.0.