Smart Views allow you to optimize your workflow by creating an organized list of Issues filtered by platform, app title, Issue status, assignee, Tags, and more. As an Admin, you can create Smart Views for each of your Agents. As an Agent, you can create Smart Views for your specialization, such as iOS Issues or Issues tagged as payment related. As a developer, you could create a Smart View for issues tagged as technical or bug-related Issues.
To create a Smart View:
1. Navigate to the Issues page, then to the right of the 'My Smart Views' header, click the + button.

2. The 'New Smart View' form will appear where you can add the data points that this Smart View should filter by, including platform, app, languages, status, assignee, created date, and more. Please note that you do not have to complete all of the sections, only the ones you wish to filter by.

Once you click 'Save', your new Smart View will exist on your Dashboard under the 'My Smart Views' area. It will only be visible and accessible for you.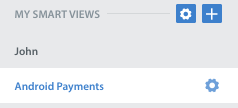 The Admin(s) of your team can create Shared Smart Views, which can be accessed and used by all team members within your organization. To learn how to create these, see How Do I Create Shared Smart Views?