Shared Smart Views differ from Smart Views in that they can be shared with other members of your team. Shared Smart Views can only be created by the Admin(s) of your team. If you are an Agent, please direct your Helpshift Admin to this tutorial.
Please note: the order of Shared Smart Views and Folders is customized at the Agent level. Folders that an Admin creates will not be globally visible. To learn more about using folders, see How Do I Organize My Smart Views Into Folders?
To create a Shared Smart View:
1. Navigate to the Issues page, then to the right of the 'Shared Smart Views' header, click the + button

2. The 'New Shared Smart View' form will appear where you can add the data points that this Smart View should filter by, including platform, app, languages, status, assignee, created date, and more. Please note that you do not have to complete all of the sections, only the ones you wish to filter by.

3. Click the 'Shared with Everyone' text at the bottom of the form to bring up the Sharing Settings. Here you can select whether to share this Shared Smart View with everyone, just the Admins, or with a specific Group. Please note that if you do not have Groups enabled, the only options available to you will be Admins or Everyone.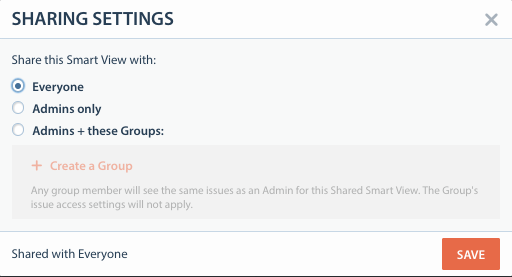 Once you've made your selection, click 'Save' to return to the New Shared Smart View form. After you click 'Save' from the form, your new Shared Smart View will appear for you and everyone you enabled access for.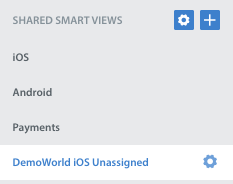 To learn how to create Smart Views, see How Do I Create Smart Views?
To use this functionality to create an 'All New Issues' Shared Smart View that your Agents can access, see How Do I Create An 'All New Issues' Or 'All Issues' Shared Smart View For Agents?