Please note: adding your app does not connect your mobile app directly to Helpshift. Your developer will still be required to integrate the SDK to implement this functionality. Please direct them to our Native SDK Implementation Guide to have them get started with this process.
You'll be prompted to add your first app when signing up for Helpshift, and may also add apps by following the steps below:
1. From your Dashboard, click the Settings icon in the left navigation bar

2. Scroll to the bottom where 'App Settings' is listed, then click 'Add App'

3. Complete the following fields:
App nickname: The name of your app – this is how it will appear in the Dashboard for Agents, so it's best to provide a simple, intuitive name
Available platforms: Select the checkboxes to indicate which platforms your app is currently available for
Store URL (optional): The url for where your app is located in the Apple/Play store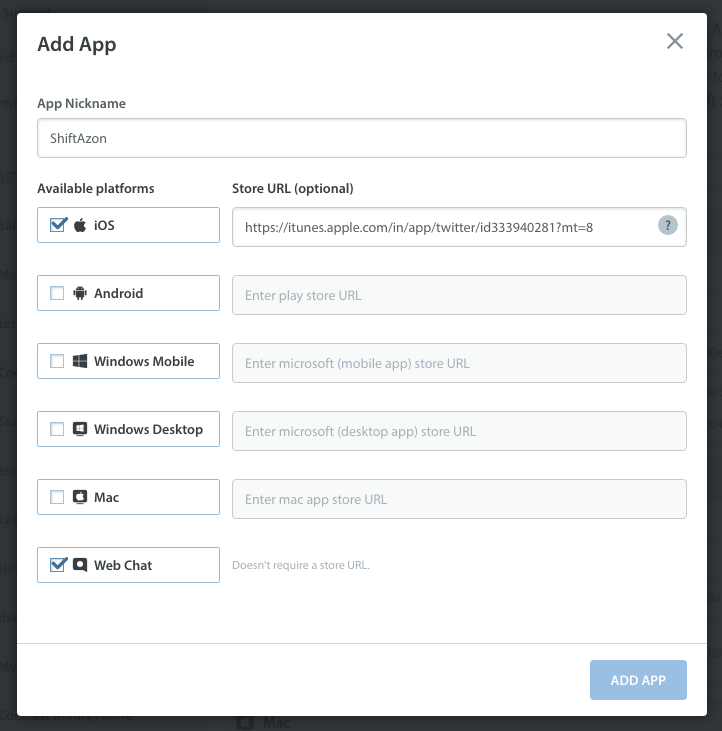 Once you've completed this info, click the 'Add App' button. Once you've done so, you'll be routed to the new app page where you can add the platform, language, and other details.
To start setting up FAQs for your app, see How Do I Create FAQ Sections & Articles? To learn more about managing platform visibility, see How Do I Reorder / Hide Apps & Platforms In My Web Support Portal?