Note: There is a limit of 50 user properties that can be configured. Once they've been configured there is no way to delete or archive old user properties. The best practice is to test campaigns with a test app. Once validated you can configure the user properties with your production apps.
When defining the target audience for your Campaign, you'll have the option to select User Properties as a segmentation group.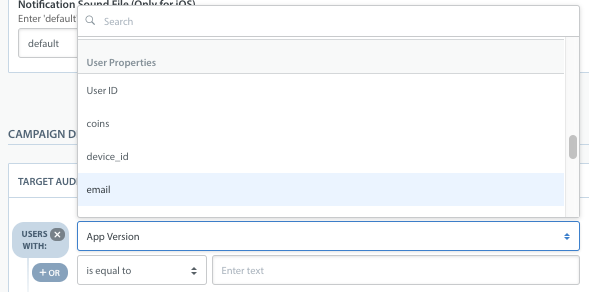 User Properties are custom values specific to your app and business model. These values can be numbers (integers), words (strings), dates, and True/False.
Examples might include:
Dollars Spent
Membership Tier
Last Purchase Date
Registered
Subscription status
You can also upload a CSV of values for any User Property. One of the most common use cases is to upload a list of IDs to your User ID User Property. To trigger the Upload CSV function, please select "Is One Of" from the operator. You will then see an Upload CSV file button to enable the upload function.

These segmentation options are based on Custom Data your developer defines and collects. To implement use of User Properties, please direct your developer to our developer documentation on collecting Custom Data for iOS and Android Campaigns.
Please also note that adding Custom Data does not automatically add User Properties.
Please note: Helpshift only stores user data for 90 days, so Campaign messages will not be sent to users who have not used your app in 90+ days. Once a user has been inactive for 90 days, all identifying data associated with their user profile is purged.