Guided Issue Filing allows you to add custom categories to your in-app support contact flow to enable users to automatically share information related to their inquiry. This customization also allows you to provide pre-filled fields and set form options to update dynamically based on previous selections.
Flow #1: User opens a subcategory of Sections to find the answer they're looking for: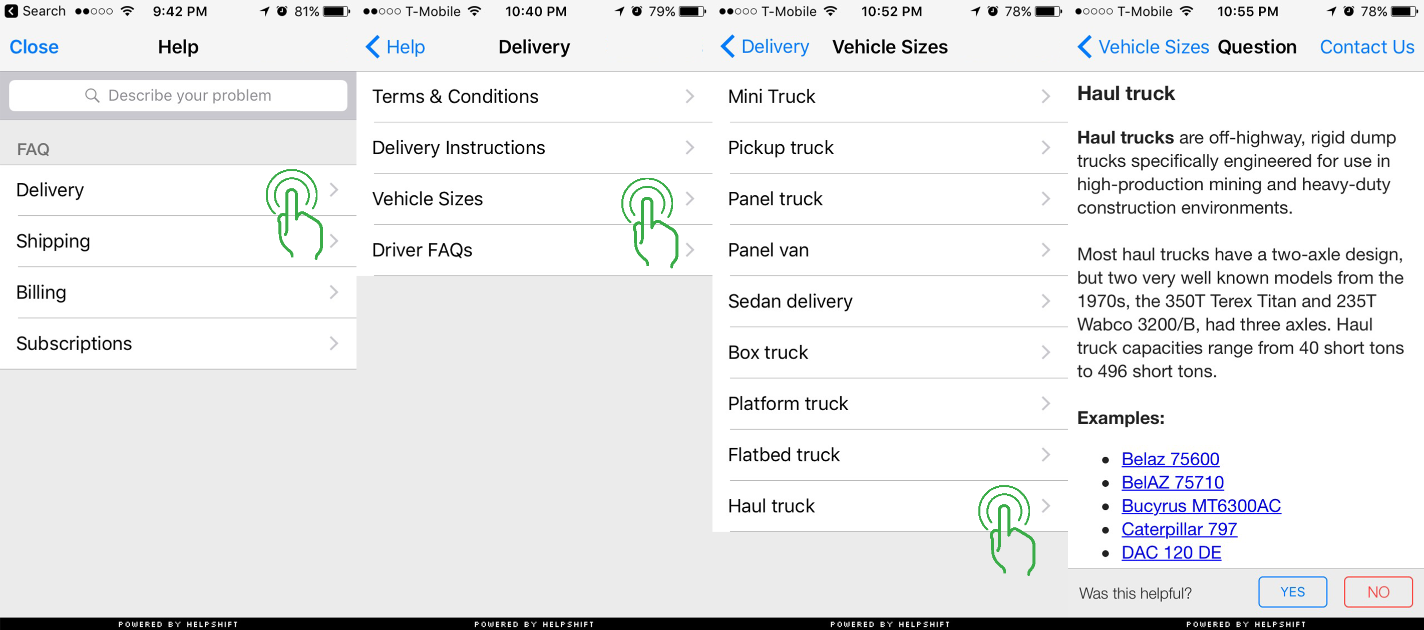 Flow #2: Embed a custom action, such as visiting a particular mobile webpage, to help the user find critical info: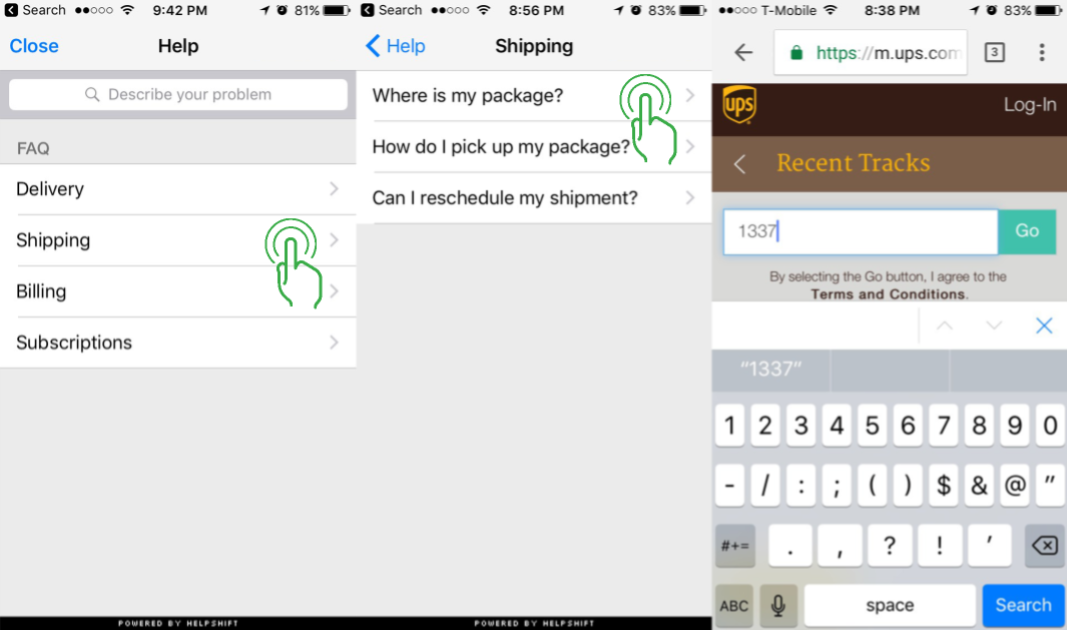 Flow #3: Create a flow that opens a conversation for your users based on what they want to know: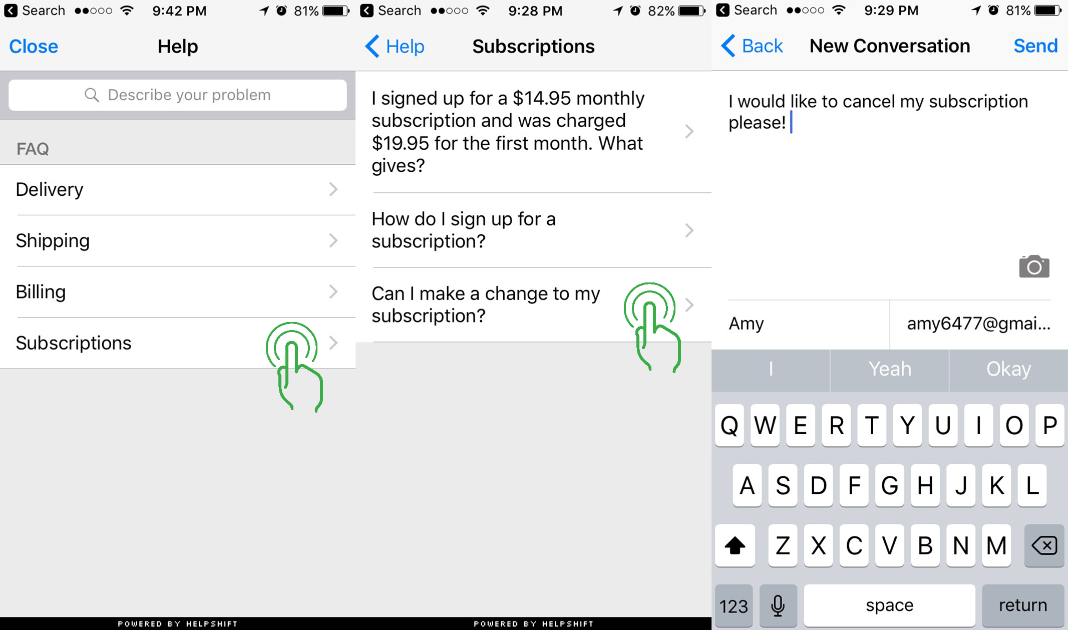 This information is converted to HS-Tags & metadata which will automatically be attached to the incoming Issue. This functionality provides a streamlined experience for end users, and enables your team to prioritize and assign Issues effectively using the metadata provided.
A successful implementation of Guided Issue Filing is highly dependent on the following:
A plan in place for how you want to structure your Guided Issue Filing system, including:

A set structure for the Sections offered within your FAQs
An organized list of tags to attach to Issues
A plan for which Smart Views and Agent Groups incoming Issues will be routed to

Understanding and appropriate implementation of Agent Groups
Understanding and appropriate implementation of Smart Views
Working knowledge of Automations, and specifically New Issue Automations (NIA)
For more detailed steps and best practices, please see our Knowledge Base.
1. For Developers: Implementing the SDK
2. For Support Admins: Organizing Incoming Issues via the Dashboard
3. Best Practices & Examples
4. Example: Gaming App
5. Example: Commerce App
6. Example: Productivity App
To learn about additional features, please see our Getting Started page.
---
1. For Developers: Implementing the SDK
The first step to implementing Guided Issue Filing is for the developer to set up the custom categories and tags in the back end to ensure that the Issue is correctly tagged upon creation. This requires implementing custom settings at the SDK level using the showConversation, showFAQs, showFAQSection and showSingleFAQ API classes.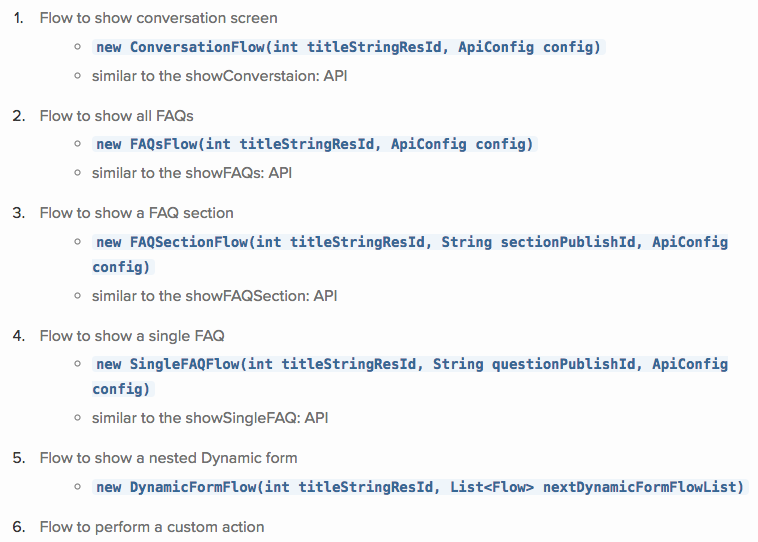 Please direct your developer to our developer documentation on Dynamic Forms for iOS and Android to configure this custom setup. Dynamic Forms refers to the functionality by which the fields auto-update based on previous selections.
---
2. For Support Admins: Organizing Incoming Issues via the Dashboard
Once your developer has configured the desired settings at the SDK level, your role as an Admin is to make the best use of the information available via tags and metadata on the Issue once it's created. You can use tags, Automations, Agent Groups, and Smart Views to categorize and route Issues as effectively as possible.
1. The first step is to come up with an appropriate tagging system for your Issues. These tags will allow you to organize and direct tagged Issues into Shared Smart Views and have them auto-assigned to certain Agents or Groups during working hours. We recommend developing a set list of tags which are relevant to Agents in prioritizing and solving Issues, easy for your Agents to understand, and not likely to change over time.
Please refer to the following articles to create and set tags:
2. Once your tags are in place, you can use Automations to route Issues with specific tags to select Agent Groups and/or Smart Views. How you'll use Agent Groups and Smart Views is dependent on the size of your support team, the variety of Issue types you receive, and how you expect to scale your support offerings over time. If you haven't learned about and set up Agent Groups or Smart Views yet, please review the following guides:
3. After you've set up Smart Views and/or Agent Groups, you'll be ready to set up Automations to have incoming tagged issues automatically routed to them. If you're new to Automations, you'll want to review our guide to Setting Up Automations first. Knowing how to use Automations is crucial to using Guided Issue Filing effectively. Please see our guide to Using Automations with a focus on implementing New Issue Automations.
If you're already familiar with Automations, please review the steps to set up a New Issue Automation in the following article: How Do I Create A New Issue Automation?
---
3. Best Practices & Examples
We recognize that every support structure will look different based on your support teams needs, specialties, and offerings to users. In this section we've provided a few examples of how to structure your Guided Issue Filing system based on the industry and focus of your application.
As indicated in our developer documentation on Dynamic Forms for iOS and Android, there are 6 different flows you can call with Guided Issue Filing. This means you can get creative with how you set up your Dynamic Form. Below we have outlined several different use cases, based on apps in different industries.
---
4. Example: Gaming App
A player of a gaming app may want to contact support for several different reasons. We can outline these reasons into the following Issue Types:
Gameplay ("How do I defeat the dragon?" "Where can I upgrade my sword?")
Lost Progress ("I lost my progress in the game." "I switched devices and my base isn't showing up.")
Bug/Crash ("The game freezes when I buy a shield." "The game slows down a lot on level 42."
Lost Purchases ("I spent $4.99, but don't see my diamonds." "I want a refund on my purchase.")
Feedback ("I wish I the armor came in sky blue." "This new update sucks. Why did you take away the dragon spell?")
To provide the best experience to your player/user, you'll want to have self-service for some options and in-app messaging for others. With Guided Issue Filing, you can automatically show the Gameplay FAQ section when the player selects 'Gameplay,' and if the player selects 'Lost Progress,' they will be able to submit a new Issue that is automatically tagged as 'Lost Progress.' This will allow all of these Issues go to a relevant Shared Smart View and/or Agent Group.
---
5. Example: Commerce App
Similar to gaming apps, users of commerce apps have a variety of things that they need to contact support about which usually fall into common categories. With Guided Issue Filing, you'll be able to route certain Issues to your teams based on priority and urgency. Here's an example of how commerce apps can implement this after a user clicks Contact Us:
Orders ("Where is my order?")
Returns ("How do I return my item?")
Billing/Payment ("I have not received my refund yet." "My credit card got declined.")
Bugs ("Your app crashes when I add this Tory Burch purse to my cart.")
Product Requests ("Can you please sell TOMS shoes? I really like them!")
Most of these selections will allow the user to submit a New Issue. However, you should still promote self-service by enabling ShowSearchOnNewConversation (iOS, Android). This flag will automatically detect relevant words in a user's new message and suggest three relevant FAQs to them before the Issue is submitted.
Here is an example flow for when a user selects "Orders" and submits a New Issue:
[Orders] is selected
[User Types] "When will my order arrive?"
[Three FAQ Articles are Shown]

How to check your order status
What are the different shipping rates?
Do you deliver on the weekends?
[Option for User to Send Message of "When will my order arrive?"]
After the user sends the message, a new Issue is automatically created. Per your Helpshift settings, a New Issue Automation can be used to route this Issue to the appropriate Smart View, Group, or Agent.
Note: In this case, the user will most likely find their answer within the FAQs, and not submit an Issue.
---
6. Example: Productivity App
With productivity apps, you can use Guided Issue Filing to make sure that certain common questions are answered by FAQs, while still enabling complex issues to be resolved over chat. Here is an example Contact Us form that you can incorporate:
Syncing to Devices ("Apple Watch is not updating." "I get this Sync Error 101. What does it mean?")
My Content/Data ("Can I export my data?" "Can I import my iCal events?")
Bugs/Crash ("I can't add new events." "I get a crash when I add a new contact.")
Feedback ("Your app is amazing." "Your app should do x, y, and z.")
For options like "Syncing to Devices" and "My Content/Data," you can first show relevant FAQ sections so your users can self-serve for these types of questions/problems. When it comes to more severe problems, like "Bugs/Crash," you can have the user submit a New Issue and that Issue will be automatically routed and assigned to your Developer. This makes your workflow more efficient and allows for the most qualified team member to resolve the Issue.
Once your Guided Issue Filing system is up and running, you can always review our Knowledge Base for information on maintaining and updating your tags, Smart Views, Agent Groups and Issues. Our developer documentation is also available for your development team to make category and SDK updates later on.