Campaigns is an add-on feature. Please reach out to success@helpshift.com to upgrade your plan to include this feature.
Campaigns allow you to proactively send a message (in the form of a push notification or in-app message) to any user who has your app installed on their device. They can be used to encourage user re-engagement, announce app version updates, request highly engaged users to review your app in the app store, and more.
This guide is meant to be a quick start for setting up Campaigns at the SDK level. If you already have Campaigns implemented and looking for information on best practices and managing Campaigns from the Dashboard, please jump down to the Supplemental Readings section of this guide.
Implementation of Campaigns requires collaboration between your development and support teams. For this reason, we have divided this guide into two parts for each team. Please note that for step 3 of the developers section, collaboration with support is needed to plan what custom user properties to filter by when using Campaigns.
For a visual overview of Campaigns, please see our Campaigns webinar.
For more detailed steps and best practices, please see our Knowledge Base.
Developers
1. Confirm Your SDK Version
2. Enable Campaigns Functionality in your SDK
3. Collect More Custom User Properties (optional)
4. Enable Campaigns Inbox Functionality in your SDK (optional)
5. Configure Push Notifications
Support Managers
1. Review our Campaigns Resources
2. Research Use Cases
3. Supplemental Reading
---
Developers
1. Confirm Your SDK Version
Double check if you are on the latest version of the Helpshift SDK. If not, please review our developer documentation and update to the latest version prior to implementing Campaigns.
---
2. Enable Campaigns Functionality in your SDK
Once you have downloaded the latest version of the SDK, make sure it is initialized by reviewing our initialization documentation for iOS and Android.
---
3. Collect More Custom User Properties (optional)
The Helpshift SDK already provides the userid, name, and email custom user properties. If you want to collect additional custom user properties, such as the player level, paid user status, or last login timestamp, your developers will need to create them separately. Steps to do so are below.
There is a vast amount of data you already have access to about your app users, such as what level they are currently on in a game, how much have they spent in the app, what are their preferred brands. This data can be measured as integers/numbers (ex. player level 5), booleans (ex. paid user True/False), strings (ex. username), date/timestamp (ex. last login) and as other data types. To track this data in Issues, you will need to set it as a custom user property in the SDK.
At this stage, you and your Support Manager should communicate to plan any additional types of custom user properties (aka custom metadata) that they want to collect to effectively manage Campaigns. These are the data points you can filter by, such as the amount of spend, sign up date, player level, and more.
Please note that the custom metadata for Campaigns is different than the custom metadata (aka user properties) added into the SDK and visible on the Issue details page. Though you can add the same custom metadata for Campaigns that you have for Issues (for example, a last purchase date) the user property for Campaigns will need to be coded in separately.
The Helpshift SDK provides APIs to allow you to implement the functionality to send this app information to our backend. This information can be further used to filter for certain types of users to target with a Campaign.
To start collecting user properties for your Campaigns, please refer to our developer documentation on Data Collection APIs for the following platforms:
We also recommend passing through user properties such as level, number of coins/points, guild name, last purchase date, tutorial completion, Facebook connect, Twitter, and more. You can learn more about user properties by reviewing this article: How can I target my Campaigns based on user-specific data?
---
4. Enable Campaigns Inbox Functionality in your SDK (optional)
An image of the Campaigns Inbox is below. In order to enable users to access this Inbox, it is recommended to set this up as it will show users all the relevant messages and notifications.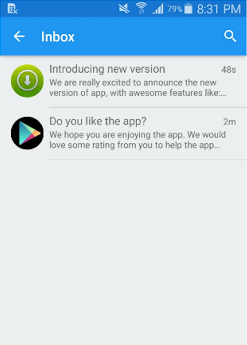 Currently, there are two options for inbox for configurations:
Option a: Use Helpshift Inbox
If you want to add an inbox into your app, configure the Helpshift Campaigns Inbox.
Option b: Connect to your in-app inbox
If your application is styled completely separately and you want to create your custom UI for the list of Campaign messages, the Helpshift SDK provides a set of APIs to power your UI based on the data that the SDK receives.
---
5. Configure Push Notifications
If you have not configured push notifications, you will need to enable push for your app.
---
Support Managers
While waiting for your developers to configure Campaigns, here's what you can do:
1. Review our Campaigns Resources
While your developer is setting up your implementation in the SDK, please take time to review our resources regarding Campaigns:
---
2. Research Use Cases
Campaigns offers a lot of capability for user outreach, which can be useful for multiple different teams within your organization. Here is a brief summary of some use cases where Campaigns could help:
Product Managers: Alert users about new features, ask for feedback/app ratings, cross-promoting, and more.
Support Managers: Alert users about delays and outages. Do follow up surveys if users have had negative experiences with the game/support, follow up on support Issues.
Marketing Managers: Send out timely offers, sales, and other re-engagement messages to bring dormant users back or reward VIP users.
---
3. Supplemental Reading
Once you and your developer have initially set up Campaigns at the SDK level, you'll want to review the following resources to get started creating Campaigns. To access the Campaigns area from the Dashboard, click the Campaigns icon in the left side bar.

To set up additional features and learn more about Helpshift best practices, please review our Knowledge Base.