Apps in Helpshift represent each of the products or services you support. For example, if you have two major products, ShiftAzon (for buying travel products) and ShiftAway (for booking travel), where each product has its own website, mobile app, and branding, you should create two separate apps (one for each product) within Helpshift. This allows you to customize the support experience for each product, and keep all related configurations organized in one place.
To create an app in Helpshift, from within your Dashboard, click the Settings icon in the left navigation bar.

Scroll to the bottom where 'App Settings' is listed, then click 'Add App'.

Complete the following fields:
App Nickname: The name of your app – this is how it will appear in the Dashboard for Agents, so it's best to provide a simple, intuitive name.

Supported Platforms: Select the platforms your app is currently available for.

Store URL (optional): The URL for where your app is located in the Apple/Play store.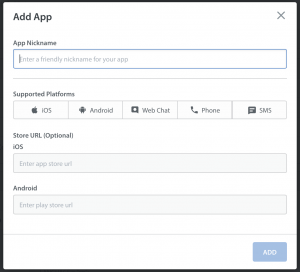 Once you've completed this info, click the 'Add' button. Once you've done so, you'll be routed to the new app page where you can add more platforms, languages, and other details.
Delete app from Helpshift Dashboard:
Go to Settings from the Helpshift Dashboard and select the App you want to delete.

Select Three Dots from Top Right Corner and then select "Raise Request to delete". This will not immediately delete the app, However it will send request to Helpshift team to delete this app and you will be notified with estimated timeline for deletion on the app.
To start setting up FAQs for your app, see How do I create FAQ Sections & articles? To learn more about managing platform visibility, see How do I reorder/hide apps & platforms in my Web Support Portal?