New!
Coming Soon
New!
End of Life & End of Support for Legacy SDKs (SDK Version <7.x.x)
End of Life and End of Support Notice: As we have previously announced, Helpshift's Legacy SDKs (SDK Version <7.x.x.) will see end of support as of 31 March 2023. Learn more here.
Please work with your developers to update to our latest SDK X version as soon as possible.
Feel free to reach out to your Customer Success Manager or support@helpshift.com to learn more.
Remove Unused Values in Custom Issue Fields (CIF)
You can now remove a CIF in the dropdown menu if a value is not used in any of the workflows! Additionally, you can distinguish used CIF values from unused ones with a visual cue in the admin console making it easier for you to manage all of your CIFs across your workflows. Learn more here.
Coming Soon
Many exciting Helpshift features and enhancements are under active development, approaching their release. To learn more about anything we describe here, please contact Success@helpshift.com.
SDK X v10.2.0 for React Native
SDK X v10.2.0 will soon support React Native! This release includes all the features and bug fixes available till now, details of which can be found in developer documentation.
Features available with this version:
Outbound Support
Enable customer support teams to proactively engage users to provide better customer service and resolve their issues faster through the in-app customer service experience. Learn more.
OS Updates
For latest OS Support for Android 13 and iOS 16 we recommend updating to this version. Details on changes and impact can be found here.
Camera permission dependency removal in iOS
This update will also remove the need for the App to declare permissions on the App store in order for end users to upload attachments.
Contact Us button visibility
The ability to allow developers to configure the user segments for which the contact us button is visible will be available . This was supported in Legacy SDK and will now be available in SDK X. Details about implementation can be found here iOS | Android.
Support for Cocos2dx and Xamarin plugins will be released in Q2 2023.
Please reach out to your Customer Success Manager or success@helpshift.com to learn more!
New Bot Step to Update Issue Fields
Helpshift's bots got better with the "Update Issues" step. With this addition, you can add/update the following:
These fields can be updated anywhere within the bot workflow, and meaningful customer journeys can be defined without having to create multiple bots!
Action Feed for Smart Intents Training Messages
We at Helpshift understand the importance of providing unparalleled customer service experiences to businesses. Helpshift offers a wide range of tools, such as FAQs, automation, bots, quick reply, smart intents, etc. to enhance the customer service experience. However, we recognize that brands sometimes struggle to properly maintain these entities and stay up-to-date with necessary practices.
Hence we're excited to announce the development of a comprehensive alert system designed to help our customers get the most out of our product. The alert system will proactively address potential issues and notify users of any necessary actions that need to be taken to keep their system running smoothly and take advantage of all the benefits that Helpshift offers.
The first iteration of this project will focus on improving the predictive performance of your intents by suggesting potential training messages for approval.
A limited number of training messages can negatively impact the predictive performance of an intent. The goal of the alerts system is to make it easier for you to provide additional training messages by suggesting them to you for approval. This will allow you to improve the accuracy of your Smart Intent menus, leading to a better overall experience for your users.
Cookie Notification on Help Center
This enhancement to the Help Center will help our customers meet regulatory requirements for cookie collection in the web Help Center. To ensure that the users are fully informed about the cookies collected, a notification banner will be displayed on the Help Center that provides required details. Before collecting any cookies, consent of the users is ensured.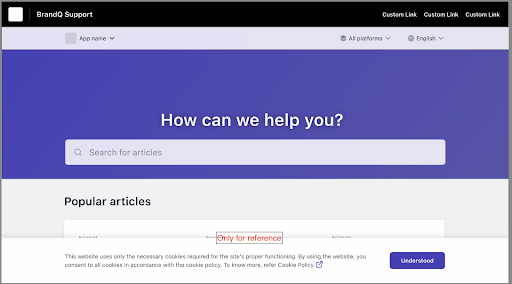 FAQ Editor Updates - Phase 2
After successful launch of Phase-1 of FAQ editor , Phase-2 is in line, featuring several new and improved features to enhance FAQ management experience. These features include:
Enhanced Text Formatting options such as:

Code tag
Subscript
Superscript
Color options
Highlighting
Text alignment
Indentation


Table Insertion
Customizable Image Formatting options such as
Customizable Image Formatting options such as:

Image Resizing
Image Alignment

Callouts

Table of Contents - displaying all headings with hyperlinks to their respective sections at the top of the article
Powerpaste - allowing you to copy source text formatting into the editor